2019 Fiat 500
Starting at
$17,540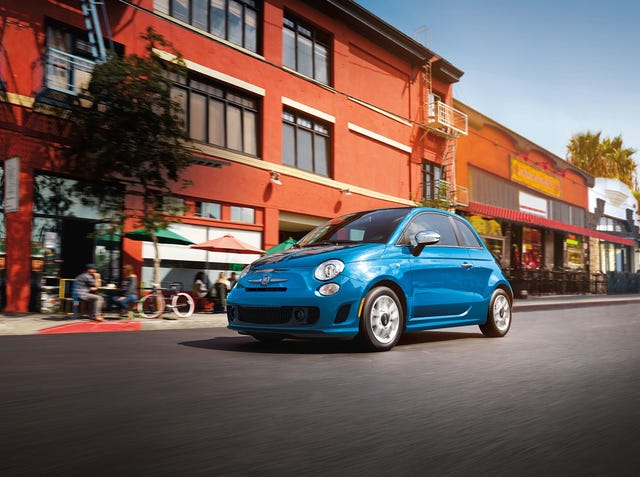 Overview
Say goodbye to boring with this adorable scoop of Italian gelato—the Fiat 500 is ready to brighten up your garage. Both the hard-top 500 and the retractable softtop 500C trade heavily in charm but offer little else. If you like the looks of the 500, you better act fast to get a new one: This is the last year it will be sold in the U.S.
Engines, Ride, and Handling
A turbocharged 1.4-liter four-cylinder is now the sole engine available; the car isn't lightning-quick, but its 135 ponies scoot it around town just fine. The last time we tested a 500 with this engine was in 2013 and it delivered a zero-to-60-mph time of 8.1 seconds. A six-speed automatic is optional, but those who prefer to shift for themselves can stay with the standard five-speed manual. Despite Fiat's claim that the 500's suspension is "sport tuned," there's not much athleticism in this chassis. But no one buys a Fiat 500 for the performance—well, maybe those interested in the hot Abarth model do—as the diminutive city car is more of a fashion accessory.
Interior and Technology
Its charming, retro exterior still stands out in traffic even though it hasn't changed much since the car was introduced in 2011. Inside, a 5.0-inch infotainment touchscreen adorns the dash, while a circular digital screen lights up the gauge display. Fiat offers several fashionable themes, including houndstooth-fabric seat covers or two-tone caramel-and-cream leather. Not much is available on the driver-assistance front—parking sensors and a backup camera are the only high-tech features that the 500 offers. Instead, its low price and cheeky personality drive the 500's appeal since buying one requires compromises in the form of limited passenger space, lackluster performance, and outdated technology features.
Advertisement - Continue Reading Below
Advertisement - Continue Reading Below