2019 Fiat 500e
Starting at
$34,705
est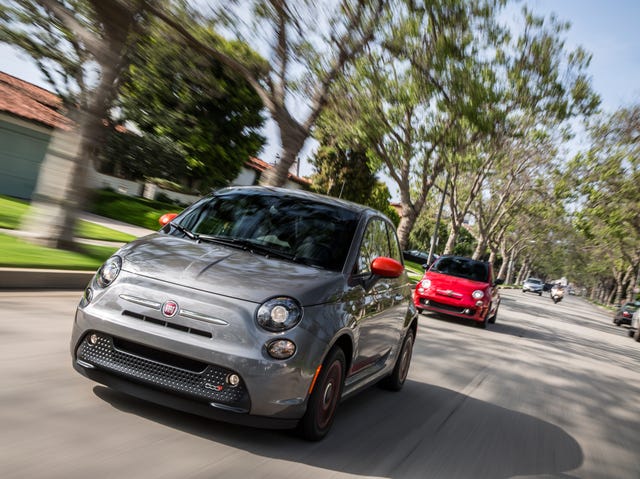 Overview
With its tiny size, zippy handling, and an EPA-estimated range of 84 miles, the 500e is a fine city car—as long as you don't need to go anywhere else. The 500e is sold only in California and Oregon.
Powertrain, Charging, and Handling
On the upside, it is a bit peppier, smoother, and quieter than the gas-powered 500. Under its stubby hood is a 111-hp electric motor that's powered by a 24.0-kWh battery pack. In addition to its short estimated driving range, the EPA says the 500e should deliver about 112 MPGe in combined city/highway driving. In our testing, we saw fuel economy of 87 MPGe and our 2013 test vehicle went from zero to 60 mph in 8.4 seconds. That's not exactly a speedy result, but the 500e's time was only 0.3 second slower than a regular Fiat 500 with a turbocharged engine.
Interior and Technology
The interior is cramped, with an awkward driving position and a rear seat that is best reserved for short people and short distances. Faux-leather upholstery, a 5.0-inch infotainment touchscreen, navigation, a 7.0-inch digital gauge display, automatic climate control, and heated front seats are all standard. The 500e is available with very few options; in addition to six different exterior colors, buyers can choose to add a power sunroof, a black-and-white interior appearance package, all-season floor mats, or the eSport package which includes dark-colored aluminum wheels, darkened exterior lighting elements, and orange-painted sideview mirror caps. Driver-assistance features are limited, but the 500e comes standard with a pedestrian-detection system that alerts the driver via an audible alarm.
Advertisement - Continue Reading Below
Advertisement - Continue Reading Below