2019 Fiat 500X
Starting at
$25,985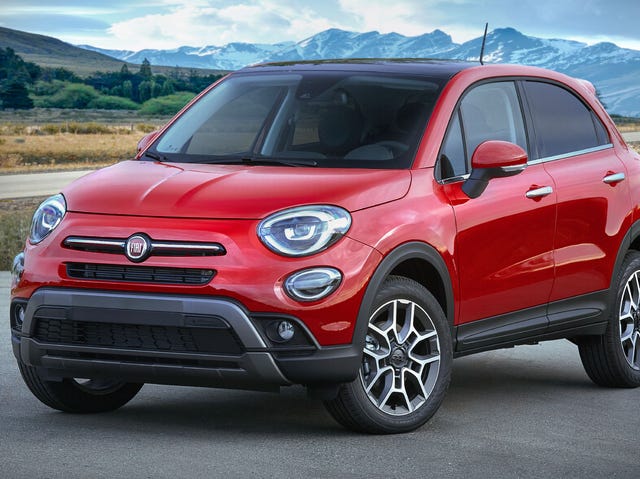 Overview
Grown up but still cheeky, the 500X complements its minuscule sibling, the Fiat 500, by offering more space and all-weather capability while retaining its classic Italian style. Looking for something more rugged in appearance? Check out the 500X's boxier sibling, the Jeep Renegade.
Engines, Ride, and Handling
All 500X models come with a turbocharged 1.3-liter four-cylinder that makes 177 horsepower. A nine-speed automatic transmission and all-wheel drive come standard; a drive-mode system provides three settings for different driving conditions. Even the base model comes with aluminum wheels; 17-inch wheels are standard but larger 18-inch rollers are optional. It's not the quickest crossover in its segment nor is it the most fun to drive; the 500X's suspension is comfortable for highway cruising but loses its composure on curvy back roads. If you're looking for a more entertaining SUV, we'd suggest the Hyundai Kona or the Mazda CX-3.
Interior and Technology
Passenger and cargo space is tight in the 500X and interior material quality isn't among the best in class, but ergonomics are good and the driving position should suit a range of body shapes and sizes. A 7.0-inch touchscreen infotainment system with Apple CarPlay and Android Auto capability is standard; navigation and a Beats audio system are optional features. Selecting the Advanced Driver Assistance Group package adds a suite of driver-assistance features such as adaptive cruise control, automatic high-beam headlamps, blind-spot monitoring, lane-keeping assist, and automated emergency braking; the package is optional on the Trekking, Trekking Urbana, and Trekking Plus models.
Advertisement - Continue Reading Below
Advertisement - Continue Reading Below